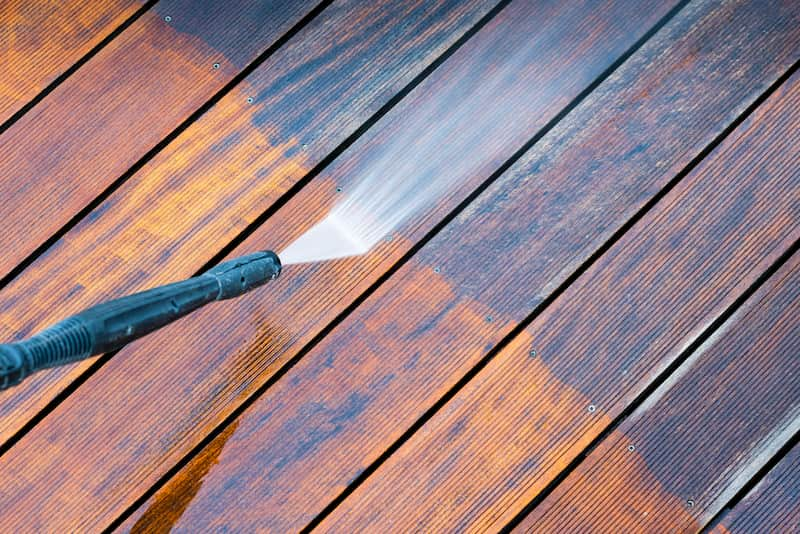 Knowing the perfect way to keep your deck in great shape can be difficult. If you go online, you'll see dozens of articles discussing deck sealing and deck staining. They both purport to protect your deck so it can reach its expected lifespan.
But what's the difference between deck sealing and deck staining? And how do you get ready for it?
Deck Sealing
Deck sealing is when a sealer is painted onto the surface of your deck. A sealer goes on clear or transparent so it can show the natural wood and grain of your deck.
Most importantly, deck sealer prevents water from being absorbed into the wood. Having water absorbed into your wood deck can lead to rotting and other damages. A deck sealer also helps protect your deck from insects, mildew, mold, and precipitation.
When your wood is sealed, you'll find water beads on the surface of your deck. If you notice that water isn't beading or gets absorbed too quickly into the wood, you should invest in another sealer coat.
Sealer is available in different types. These are:
Penetrating Sealers (tang oil, linseed oil, Hemp oil, waxes)
Coating Finishes (shellac, lacquer, varnish, spar varnish)
If you're looking for a protective layer that will leave your wood the natural color and protect against water and natural elements, a sealer is a great option.
Deck Staining
Deck staining is another great option. Deck stains have color pigmentation or tints that help protect against UV rays and sun damage. This means you can stain the wood with a specific color to match your home. However, it also means the natural grain of your wood might not show through.
Like sealer, deck staining protects against moisture, rot, mold, and mildew. Because of the pigmentation in stains, UV damage and sun damage are protected against.
There are a few options when it comes to wood stains:
Wood Toner (clear or color)
Semi-Transparent (allows some of the wood grain to show through)
Semi-Opaque (hides most of the grain)
Solid Stains (has the richest color)
The best part about staining your deck is that it will be protected against sun damage.
Working with Professionals
No matter what option you choose for your deck protection, it's best to work with a professional. The pressure washing experts at Mister Blaster Pressure Cleaning offer deck sealing so you know you're in great hands.
The best way to get your deck ready for your sealing project is to invest in professional pressure washing beforehand. For both deck sealing and deck staining, having a clean canvas is one of the most important parts.
To learn more about how our experts can help with your deck sealing and deck staining project, call the pressure washing experts at Mister Blaster Pressure Cleaning today and set up an appointment.