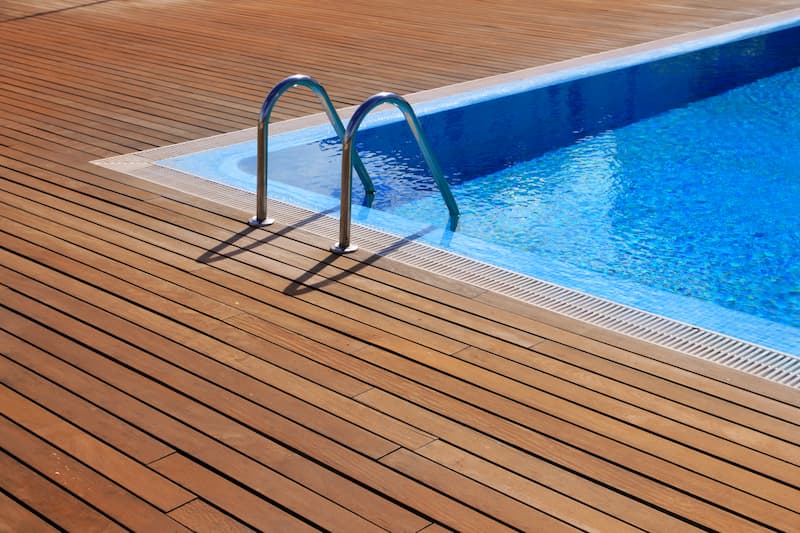 The pressure washing experts at Mister Blaster Pressure Cleaning offer premier pool deck cleaning for your residential properties. We know that keeping your pool deck clean can be a difficult project, especially when your pool deck is exposed to dozens of harmful chemicals.
The best way to ensure your pool deck is in great shape is to invest in professional pressure washing. Pressure washing is a great way to ensure your pool deck cleaning is done right the first time. The high powered water spray used in pressure washing gets into all the smallest nooks and crannies on your pool deck.
Our pool deck cleaning options are available for decks made up of:
Wood
Concrete
Pavers
And more!
We will help you keep your pool deck cleaned and maintained so you can enjoy your outdoor activities without worrying about the damage on your pool deck. Our specialized cleaners will help break down any mold, mildew, algae, or bacteria that might try to find a home on your pool deck.
Whether you're looking for a one-time clean or a regular maintenance schedule, we can help. We can also help with other outdoor surfaces like deck washing or fence washing to ensure your property is kept in the best shape possible.
To learn more about our pool deck cleaning services, call Mister Blaster Pressure Cleaning today at 803-627-1565 to set up an appointment today.
Pool Surrounding Washing
Do you have an inground pool? The pool surrounding still needs cleaning! The harmful chemicals used in your pool to keep it clean can cause a break down in your pool surrounding. By investing in professional pressure washing for your pool surrounding washing needs, you can ensure your pool surrounding surfaces are kept safe and clean.
No matter how long it's been since your last pool surrounding washing, our pressure washing experts can help. We choose specialized cleaners to break down chemicals, mold, mildew, and other contaminants to ensure your pool surrounding is protected.
If you're looking for a thorough pressure washing company who will help with your pool surrounding washing, call the experts at Mister Blaster Pressure Cleaning today and set up an appointment.